Coronavirus – Normal service from Waterway Routes
The coronavirus is having a significant effect on many aspects of life but…
all Waterway Routes services continue as normal.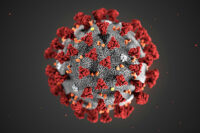 Maps: All maps are available by download. If you wish the maps to be copied onto CD or DVD then we are still posting them out.
DVDs: All DVDs are in stock and ready for posting out.
All postal items are sent by Royal Mail who are still providing a normal level of service with most first class items delivered the next working day (including Saturdays) within the UK. Items are always posted within 48 hours and often the same day.
At the time of writing (20:50 on Sunday 22nd March 2020):
The government advice is "there are no additional precautions needed for handling post or packages".
The Royal Mail says "Public Health England (PHE) has advised that people receiving parcels are not at risk of contracting the coronavirus. From experience with other coronaviruses, we know that these types of viruses don't survive long on objects, such as letters or parcels. This complements the highly publicised guidance from PHE for people to wash their hands more often than usual using soap and hot water".
UPDATE (at 21:30 on Monday 23rd March 2020):
Following the statement by the Prime Minister at 20:30 this evening I will continue to dispatch items by Royal Mail on a daily basis by putting the items in the pillar box near home when I go out for my permitted once daily exercise. As the collection time from that pillar box is marked as 09:00 on weekdays and 07:00 on Saturdays that will often mean adding an extra day to the delivery timescale.
UPDATE (at 08:00 on Wednesday 25th March):
The Royal Mail advice (above) no longer appears on their website.
UPDATE (at 16:45 on Wednesday 1st April).
Royal Mail now advise that international deliveries are affected and delivery is not possible to some countries. Please check the Royal Mail website for details which are frequently being updated. Where the Royal Mail website indicates delivery is not possible we will follow their advice and will not post the item until that restriction has been lifted. We will keep you advised by email when this, or any other delays, occur.