Free Maps
These are my free maps covering the Ashby Canal (Restoration Section)
Download these free maps (from the links at the end) to see how good my maps are, and to check you can install them on your device(s).
All the maps in my range are produced in this clear style showing the information you need for cruising, and helping with walking or cycling too.
They are all available to download in a choice of Acrobat (pdf) and Memory‑Map (qct) formats.
Clear Maps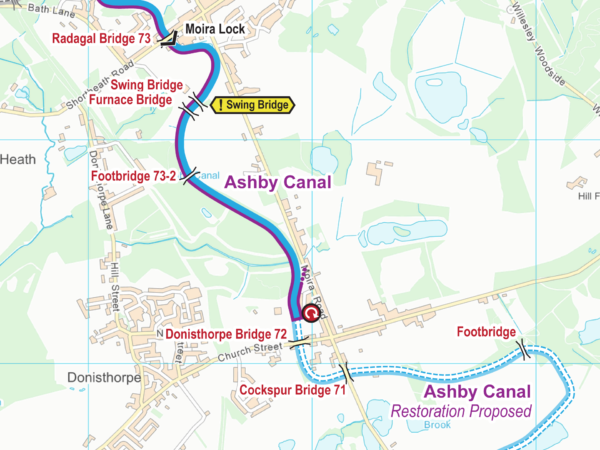 Clear presentation shows the Locks, bridges, and aqueducts etc. superimposed on an Ordnance Survey (OS) background map. Download the key to see the features which appear on the maps.
Route Covered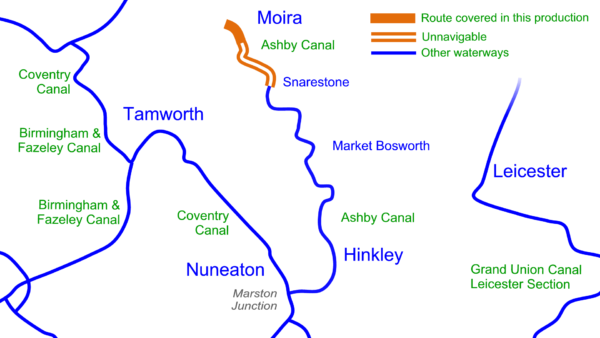 My free Ashby Canal (Restoration Section) maps cover the route shown in orange including:-
Restoration section from Snarestone
Restored section to Moira
Map Formats
The Ashby Canal (Restoration Section) Maps are available in a choice of two formats:-
The Acrobat (pdf) map includes 4 pages of maps plus 5 cover pages. These can be viewed on screen a page at a time.
The pages are sized for printing A4, or A5 if your eyesight is good enough.
This map can be used on computers, laptops, phones and tablets with Acrobat Reader (or equivalent) software or app installed.
The Memory-Map (qct) map has the same map pages joined into one scrollable and zoomable map.
This map works on Android, iPhone/iPad, Windows and Mac with Memory‑Map (or equivalent) software or app installed, and the classic map compatibility option enabled.
Installing
Please read more about installing each of the map formats, and the software or apps you will need to install:-
Licensing and Copyright
The maps are licenced and free for personal use. Business licences are available on request.
Copyright in the background maps is held by Ordnance Survey. Copyright in all other work is held by Waterway Routes. The maps should not be copied or distributed without permission except for the limited circumstances permitted by law.
DVDs
I also produce DVDs of the Ashby Canal in a choice of formats:-
Popular – Like a television programme with highlights of a cruise, including commentary and background music.
Bowcam – A forward facing camera, running all the time, then speeded up to show the whole route.
Combined – Both Popular and Bowcam DVDs in one box

Save 10% on both when you buy an Ashby Canal Map and DVD together. Automatically deducted at checkout.
Alternatives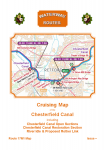 The Ashby Canal (Restoration Section) also appears in:-
England & Wales Map which includes all the Waterway Routes maps joined into one large map which is cheaper than buying the maps individually.
Ashby Canal Map which covers the whole of the Ashby Canal (as well as the restoration section).
Downloading
Please use these links to download and save my free Ashby Canal (Restoration Section) Maps:-
The file sizes to download are approximately:
Acrobat (pdf) version 7Mb.
Memory‑Map (qct) 2Mb