We cruise cruise cruise clockwise around the Stourport Ring from Stourport Basin.
First along the Staffs & Worcester Canal with the picturesque sections leading to Stourton Junction where we have a choice of routes. First we follow the shorter route along the Stourbridge Canal and through Delph. Then we return to Stourton Junction to follow the longer alternative via Aldersley Junction. Merging back to a single route we head into Birmingham. This delightful route through the city includes Brindley Place, Broad Street Tunnel, Gas Street Basin and Worcester Bar in quick succession.
Turning to follow the Worcester and Birmingham Canal we follow the long, lock free, summit pound until we reach the 30 locks at Tardebigge to start our descent, reaching Hanbury Junction after a further 6 locks. The Droitwich Canals, now under restoration, will soon provide another alternative route but for now we follow them on foot to Hawford Junction. Continuing along the Worcester and Birmingham Canal leads us to Worcester and the majestic River Severn which returns us to Stourport.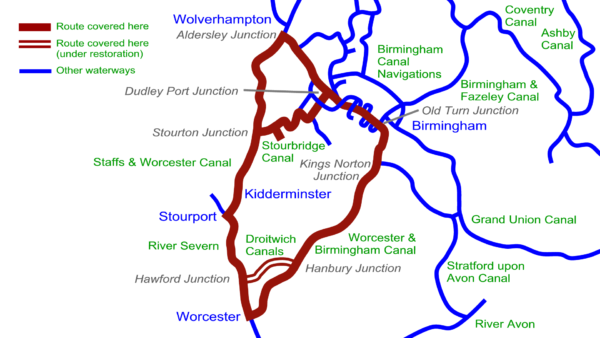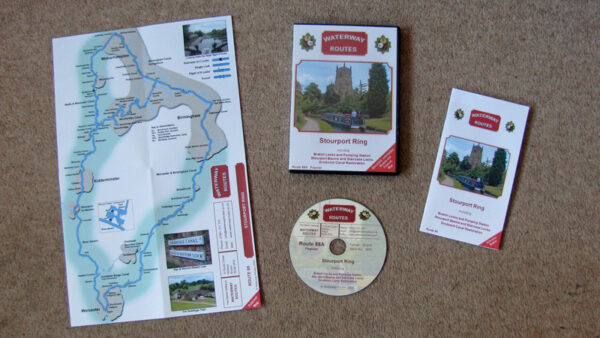 Maps
I also produce maps of the Stourport Ring in a choice of formats:-
Acrobat (pdf) Format for printing or viewing on screen a page at a time
Memory-Map (qct) Format with all the pages joined into one scrollable and zoomable map with GPS tracking too.
Read more about my Stourport Ring Maps.

Save 10% on both when you buy a Stourport Ring Map and DVD together. Automatically deducted at checkout.
Purchasing
Enjoy this lovely canal from the comfort of your own armchair in a choice of formats:-
Alternatives
With more than 50 DVDs in my full range there's likely to be something to interest you. They make great gifts too.