Download maps of the Avon Ring.
The most up to date and clearest maps of the Avon Ring are available for download.
View on your computer, laptop, smart phone, or tablet, or print if you prefer the traditional paper format.
GPS tracking (on devices with GPS) shows you exactly where you are as you move along the map.
Monthly updates ensure you start with an up to date map, with options to keep it up to date too.
Purchasing
The Avon Ring maps are available to purchase and download from my website in Acrobat (pdf) and Memory‑Map (qct) formats as follows:-
Clear Maps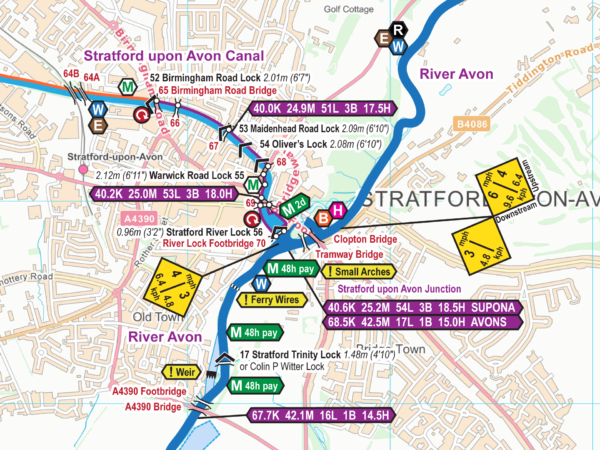 Clear presentation shows the Locks, bridges, and aqueducts etc. superimposed on an Ordnance Survey (OS) background map. Icons represent all the facilities, including moorings and their time limits. Download the key to see the features which appear on the maps.
Information bars, positioned every half hour, show the distance from the end of the canal, in kilometres and miles, the number of locks, the number of opening bridges, and the cruising time in hours.
Route Covered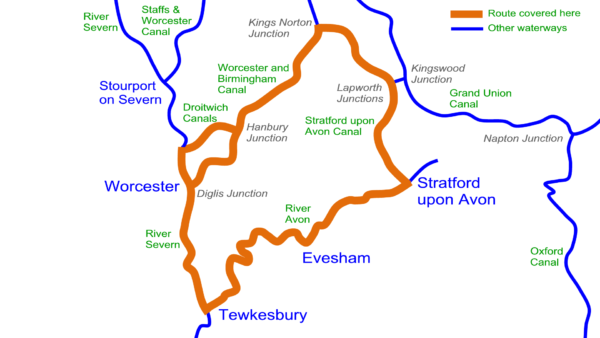 The maps cover the route shown in orange for the Avon Ring including:
Droitwich Canals

Droitwich Barge Canal
Droitwich Junction Canal
River Salwarpe (in Droitwich)

River Avon (Tewkesbury to Stratford upon Avon)
River Severn (Tewkesbury to Hawford Junction)
Stratford Upon Avon Canal
Worcester & Birmingham Canal
Map Formats
The Avon Ring Map is available in a choice of two formats:-
The Acrobat (pdf) map includes 40 pages of maps plus 4 cover pages. These can be viewed on screen a page at a time.
The pages are sized for printing A4, or A5 if your eyesight is good enough.
This map can be used on computers, laptops, phones and tablets with Acrobat Reader (or equivalent) software or app installed.
The Memory-Map (qct) map has the same map pages joined into one scrollable and zoomable map.
This map works on Android, iPhone/iPad, Windows and Mac with Memory‑Map (or equivalent) software or app installed, and the classic map compatibility option enabled.
Installing
Please read more about installing each of the map formats, and the software or apps you will need to install:-
Downloading
Download links are sent by email, usually within a few seconds of payment being made and will be valid for 48 hours. Please check you junk mail folders if the email doesn't appear promptly.
Posting on CD
For a small extra charge the maps can be copied onto CD and posted to you. These are ideal if you would like something tangible to hand over as a gift. The latest map will be copied onto CD and dispatched within two working days. You will receive download links by email as well as the CD through the post.
Free Map Examples
My maps for the Droitwich Canals are free to download in both Acrobat (pdf) and Memory‑Map (qct) formats. Please download and try these to see how good my maps are, and make sure you can install them on your device(s).
I also produce maps for canal restoration projects which are all free to download in both Acrobat (pdf) and Memory‑Map (qct) formats. These restoration maps are very similar in style to the maps for the open waterways.
Licencing and Copyright
The licence conditions permit you to use my maps on up to five devices. That's computers, laptops, phones, tablets etc.
The maps are licenced for personal use. Business licences are available on request.
Copyright in the background maps is held by Ordnance Survey. Copyright in all other work is held by Waterway Routes. The maps should not be copied without permission except for the limited circumstances permitted by law.
DVDs
I also produce DVDs of the Avon Ring in a choice of formats:-
Popular – Like a television programme with highlights of a cruise, including commentary and background music.
Bowcam – A forward facing camera, running all the time, then speeded up to show the whole route.
Combined – Both Popular and Bowcam DVDs in one box

Save 10% on both when you buy a Avon Ring Map and DVD together. Automatically deducted at checkout.
Alternatives
The Avon Ring also appears in:-
England & Wales Maps which includes all the Waterway Routes maps joined into one large map which is cheaper than buying the maps individually.
Purchasing
The Avon Ring maps are available to purchase and download from my website in Acrobat (pdf) and Memory‑Map (qct) formats as follows:-
An email with links to download the file(s) is normally sent within seconds of purchase. Please check your junk mail folders if it seems to be missing.
The file sizes to download are approximately:
Acrobat (pdf) version 35Mb.
Memory‑Map (qct) 25Mb.